Comic stores were a monthly destination for Isabella Ford when she was younger. Her father grew up loving comics, and she has a similar passion.
"I've been drawing all my life," she says. Making comics has been a dream ever since she can remember.
But it wasn't until she was a junior that Ford learned her high school might offer a way to publish her own hand-drawn work.
"I think it's really important for kids to see the work of other kids," she says.
They will, in fact, this week when the latest edition of Outside Literary Magazine publishes, full of contributions by some 30 to 40 students from various St. Louis Public high schools. Its sixth issue is the biggest yet and even boasts a public event at High Low on Thursday night, where students will read poetry and display artwork.
By submitting her comics to the literary magazine, Ford says, she found both encouragement and inspiration: "I want to submit my work everywhere now."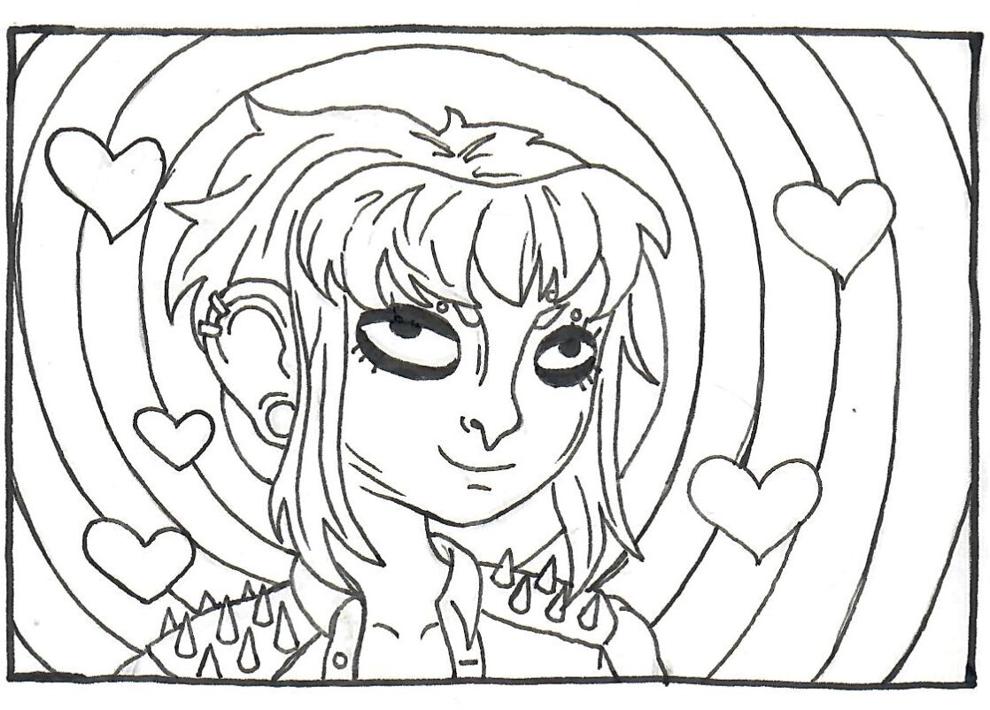 Outside is, as it implies, not part of the curriculum in the district's high schools, but a club that started with Central VPA High School. In just a few years — including two challenging pandemic ones — it has met an enthusiastic response from students (and teachers) eager for a creative outlet. Organizers now aim to involve students from every high school in the district.
"We have a lot of important stuff coming out," Valeria Monroy says. "It's going to be incredible to see their work come to life and be shown at the event."
Monroy is now a sophomore studying fine art at Fontbonne University. But she still helps with Outside after graduating from Central VPA. As its alumni design fellow, she'll be mounting student artwork in the Listening Room at High Low.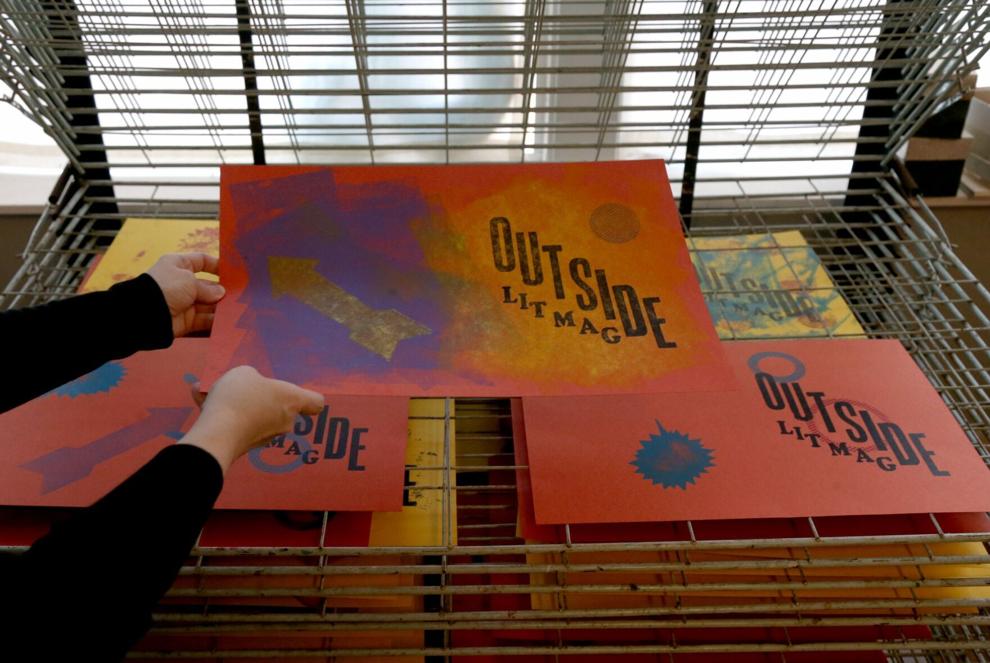 Her mentor is Lizzy Petersen, the magazine's 33-year-old director who still sends Monroy information about internships and other career builders. Petersen, who writes poetry, began running writing workshops at schools while working as managing editor of St. Louis-based River Styx magazine. She'd also bring in writing from contemporary St. Louisans to encourage students.
Now, she earns a living as a grant writer while also spending up to 20 hours a week working with city students on their own magazine. ("Spending" seems to be the right verb because the magazine relies on grant money, and Petersen says she rarely pays herself. "It's my nights and weekends.")
But it's an endeavor she loves. "When I was in high school, I wanted something like this."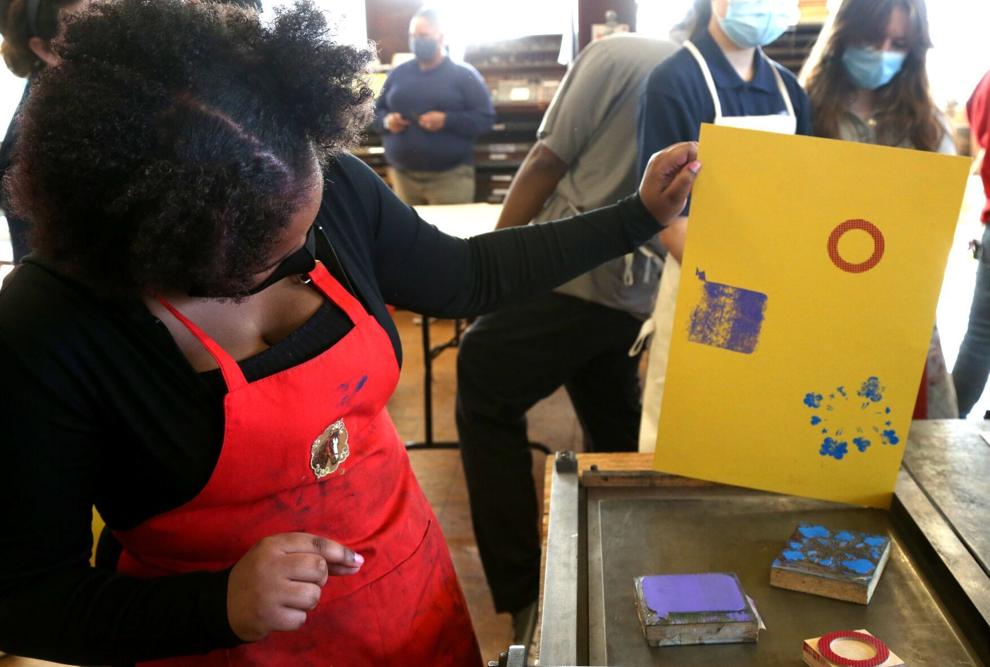 The idea for the magazine started as a conversation, she says, with MK Stallings of UrbArts, who wanted a way to build the talent of younger poets. Now, Petersen collaborates with the St. Louis Poetry Center along with several of the district's teachers and some Outside alumni.
She's not sure how common high school literary journals are, but she's unaware of others that are run after school and try to involve so many of a district's schools.
Outside Literary Magazine was founded in 2016 with "the mission to empower high school students as writers, artists, entrepreneurs, and leaders through online and print publishing," the magazine's website says. Its contents are edited by students, who learn about graphic and web design, bookmaking, marketing and event planning, not to mention literacy skills. Every year, two field trips involve Central Print on North 14th Street, where students make the magazine's cover and learn how printing works.
"This is just fun," Jaiyana Stallworth, 15, a student at Central VPA, said while stamping covers last month.
Her poem "For Black Girls" explores how she must add that phrase when she does Google searches:
"Sometimes I forget, I type without a care.
I don't think twice when I look up "Cute Hairstyles"
Silky. Straight. Thin. Different. Something so simple, I shouldn't forget.
'Cute Hairstyles For Black Girls' is how I have to live."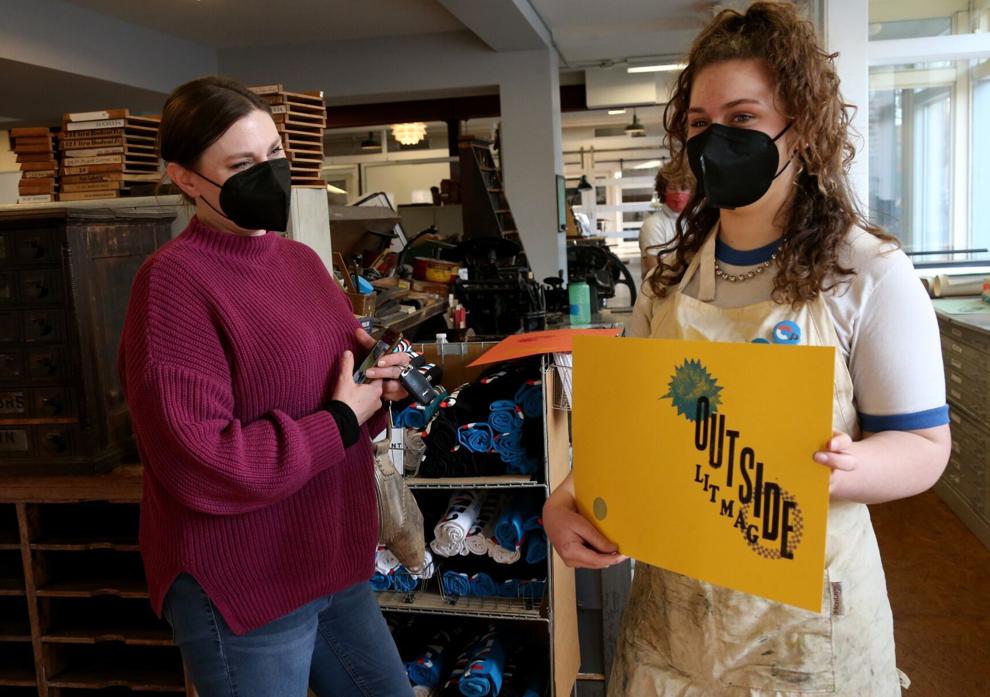 So far, the magazine's yearly budget has ranged from $5,000 to $15,000, depending on grants and donations. It promises to be a "safe space to write, create and share," and Petersen takes the time to treat students like they are professionals.
"We want all of the students to see that they can be creative," Petersen says.
Past issues show that each literary contribution is accompanied by a piece of artwork. Many of the writings are poems focusing on teenage problems and concerns — school, sexuality, love, race.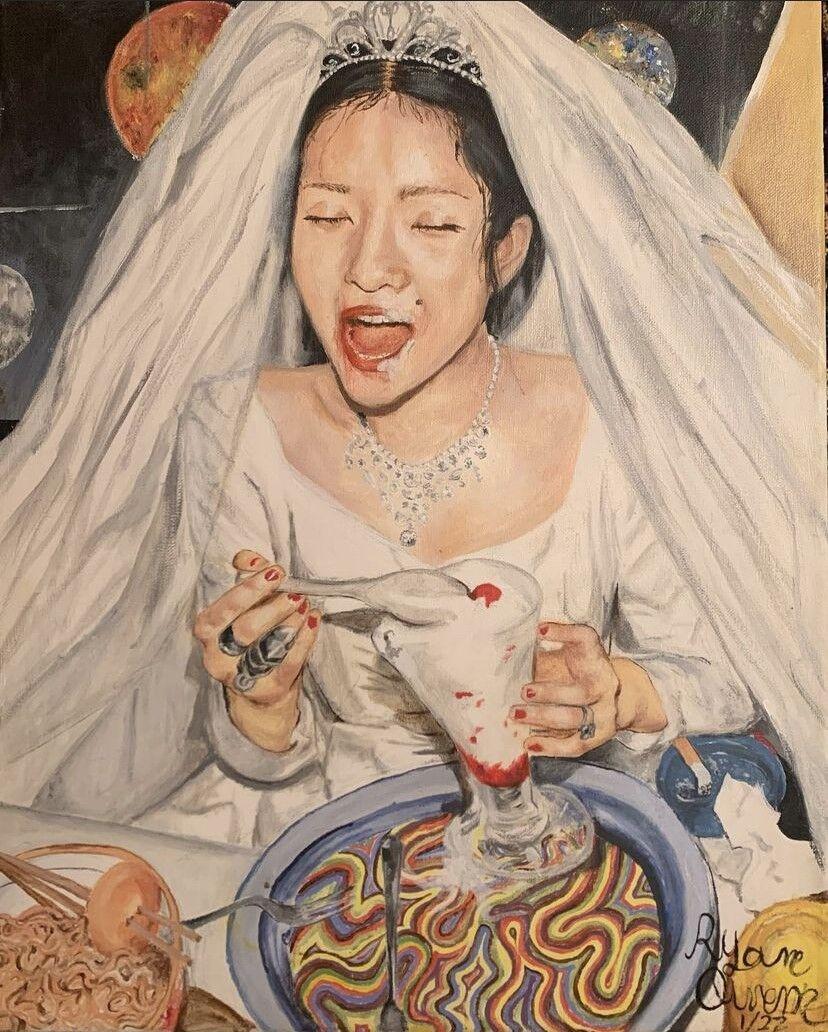 In the third issue, a poem by Genevieve Dodson begins
"You say we have things in common,
That the music I love is music to your ears.
You think that I'm gonna fall for that,
For "Protests and the Pandemic" in Issue Five, Ismail N. Botchway wrote
"Life today is not a game,
but who is the one to blame.
Botchway attends Collegiate School of Medicine and Bioscience, which this year supplies many of the editors for the new issue. Collegiate concentrates on STEM subjects, which can be challenging for an English teacher, says Chandra Alford, whose courses include AP English.
"Just because they want to go into STEM, doesn't mean they don't need a creative outlet," she says. The magazine helps give the students balance and enhances Collegiate's program: "It draws them in. They love having discussions and talking about their ideas."
Alford says there are few concerns about censorship — not only with the extracurricular Outside magazine, but also in what she teaches. Every year her AP students read Toni Morrison's "The Bluest Eye," a book recently banned, then reinstated, in the Wentzville School District. "We didn't miss a beat," Alford says.
Ford, the comics creator, says her strip is called "Canned Meth" and involves a lesbian couple. One of the characters, who seems to be a budding Walter White of "Breaking Bad," sells a liquid drug in what are basically soup cans. Ford says the main editing of her strip was that a peer suggested erasing a bong that sat on a table.
"I thought it was a funny addition," Ford says, "but I can see how that would be too much for a high school thing."
So far, she has completed only the first chapter, but she's outlined the story and plans on five chapters.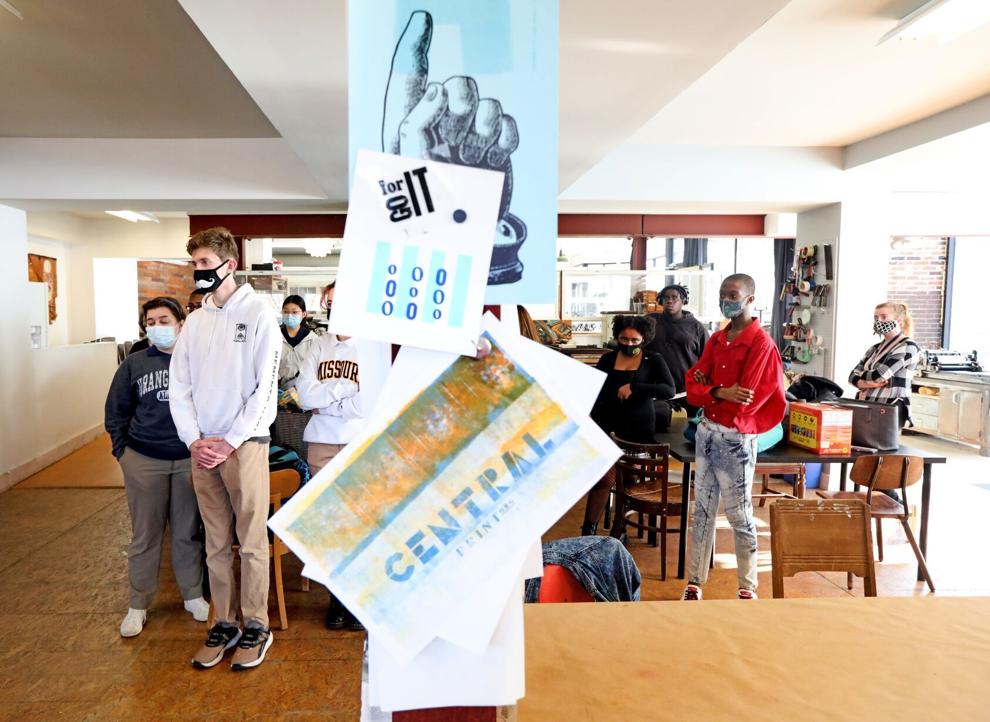 Ford used to read the student-produced Stone Soup, which she borrowed from the library. That national magazine is focused on writers 13 and under. Ford says submitting to a similar venue "is really cool," but she wishes she had found Outside earlier in her school career:
"This is something that should be more heavily promoted. I didn't know about it until this year."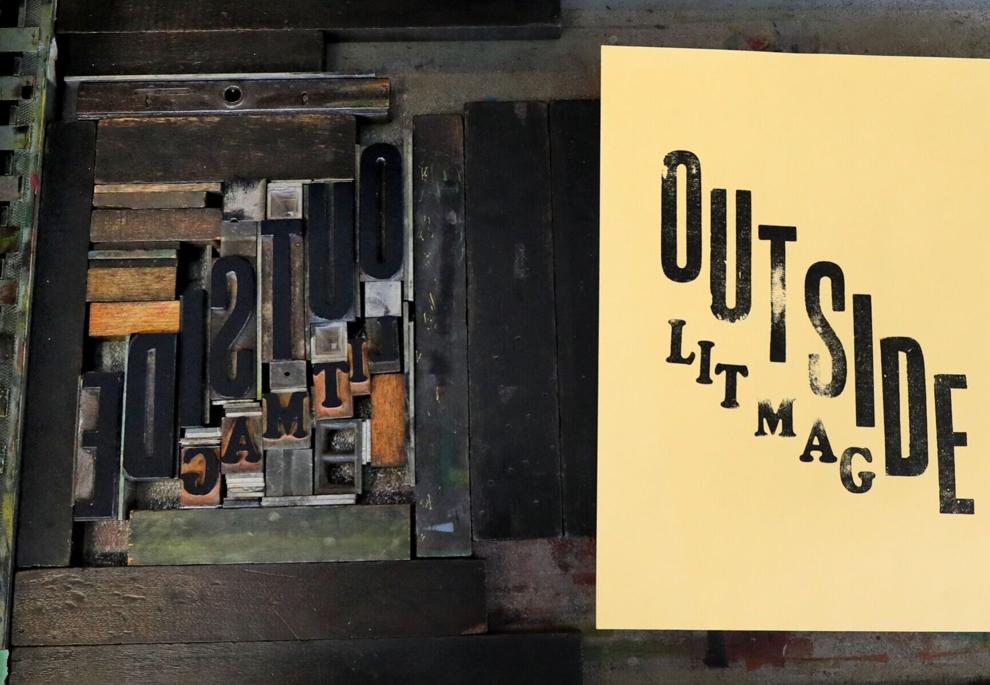 Word should spread more as this year's 100 submissions also include work from students at Soldan, Gateway STEM, Metro and other schools.
At Central VPA, Ford belongs to a creative writing club, and teacher/sponsor Rachel Friedhoff is thrilled that students like Ford are submitting different forms of writing to the magazine. Another student, Deangelo Baker, who submitted a stop-motion video, says "it has been a humbling experience being able to view and read the works of other creative people."
Friedhoff has been involved with Outside since 2016. The first year for the lit mag involved a lot of "building," she says. "We talked to kids about what a literary magazine is and how to get published."
By the time of the pandemic, students were intent on keeping the magazine going by meeting online. Friedhoff says it's an "incredibly positive" thing for the students, and that the student editors work easily and respectfully with creators and their submissions.
"The wonderful thing about the magazine is that it encourages kids to do this in their free time. It's not part of an assignment. It is for their own fulfillment."